''Chale Wote'' which is a very popular phrase in the Ghanaian Ga dialect which translates into '' Let's Go'' is also the name given to the ever popular rubber bathroom slippers. Depending on what you are saying, ''Chale Wote'' has it's own meaning at various times of the year. However, in the month of August,''Chale Wote'' means only one thing. It's the most popular street art festival in the country which sees thousands of art and fun lovers converge in James Town (Accra) to have memorable experiences of colour, art and culture. With the vision of the organizers being to cultivate a wider audience for the arts industry in West Africa by breaking creative boundaries and using art as a viable form to rejuvenate public spaces, the CHALE WOTE Street Art Festival challenges both artists and community-­based audiences to connect through art.
For many, this festival is just about street art, painting and parading the streets with music, food and drinks on a Saturday and Sunday. There is actually more to it than you may know. Jumia Travel, Africa's leading online travel website looks at what more this great festival has that we all may not know.
1. Once a year but not just one day
Being that the weekend is when many people get the time off work to really enjoy the festival, it is the notion of many that #ChaleWote is just a days event. In some cases, people even think it's a two day event which takes place on Saturday and Sunday. Truth be told, with the kind of frenzy that the whole streets of Jamestown is thrown into on those two days, one cannot fault them for thinking like this. It's like every other activity in the city is put on hold during those two days. Thousands of people spend their weekends there and enjoy everything that the festival has to over. Just to clarify things, the weekend is just the climax. #ChaleWote street art festival is a full week event. This year, #ChaleWote18 starts from Monday 20th August and ends on Sunday 26th August. There are lots of activities lined up all week long. It's not just one day, IT'S A WHOLE WEEK!
2. There is more than just colourful paintings
If you have ever been to a #ChaleWote festival, you may be used to the very colourful paintings on walls, canvases, the floor and many other backgrounds. These artworks usually tell stories. Some are very simple and relatable while others are very detailed and sophisticated. These paintings have now become more or less beautiful backdrops where many go to take pictures for their DP's, statuses and profile pictures. As we say, ''for the gram''. However, this festival goes far beyond paintings. Street art is not just about paintings. At #ChaleWote, you will see fashion, eat good food, enjoy great African music and see amazing but interesting fashion trends. It's a great platform where many talents in the creative arts industry come out to show the world what they can do. Many also use the opportunity to sell these eye-catching works and make some good money.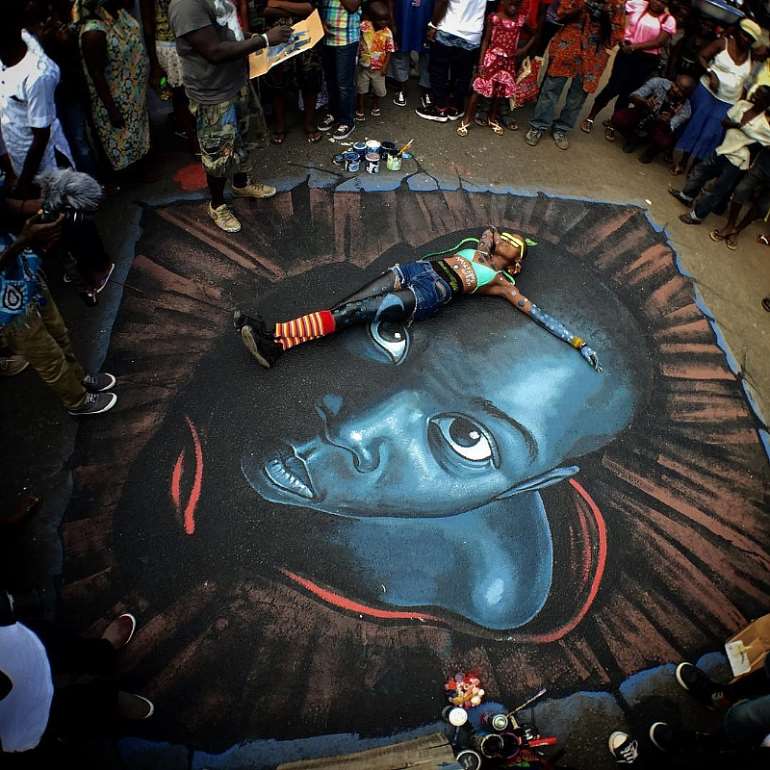 3. It's FREE !!!
Let's just borrow the new favorite jargon in town now ''if you know, you know''.
Don't we all like freebies? #ChaleWote is a breakaway from the stress of work, a time to explore the richness in art and a time to maybe make some money for yourself. And it's all for free. You don't pay to enter the festival. How is that even possible when the whole action is on the streets? Frankly speaking, it seems the only of it's kind in the world. You can walk through the festival, feed your eyes and enjoy the whole atmosphere without having to spend a cedi. However, the art and it's accompanying activities are often so good that you will end up buying one or two. You may also be thirsty or hungry at some point so you may need to carry some cash on you. Admission to the event is however FREE off charge.
4. Promotes Ghanaian Culture and Tourism
Ghana is a country rich in culture, tradition and heritage. We have it and many know it. Our biggest drawback is that we don't show it enough. We have many great creative artists in the country who do amazing things but we do not celebrate them enough. #Chalewote is one avenue where we sell our country through street art. Think about the African print clothing, beads, jewellery, local food and drinks, music etc on display during the festival. We have many international tourists passing through the festival and some even going as far as exhibiting as well. The coverage is enormous as many international media come down to cover this festival and show it on their respective stations. Social media is the ''ish'' now and everything goes out there in seconds through Facebook, Twitter, Instagram, Whatsapp and the various live feeds. We reach billions of people in seconds and the world can see what an amazingly beautiful and talented country Ghana is. This festival is good for tourism as well because it boosts the number of international arrivals we have year-on-year.
5. Perfect Vacation
Thinking about a perfect vacation? Look no further. The timing is perfect and the destination, wonderful. In August, the sun is just great on the coast of Ghana. Accra is lit. Taking a vacation to Accra around this time helps you kill about 5 birds with one stone. You get to enjoy the #ChaleWote18 festival , see all the colour, style and beauty while you explore the great beaches on the coast. You can go fishing with the locals, see tourist attractions such as the Lighthouse, The Usher Fort, James Fort, Kwame Nkrumah Mausoleum, Accra Arts Centre and the Independence Arc which are coincidentally found on the main stretch of road where the festival takes place. Everything you wanted in a vacation in one place.
The perfect cherry on top of this cake however is the fact that you can stay very close to all the action while you pay very less with amazing deals on hotels and guesthouses. Book your hotel stay now on Jumia Travel and avoid having to travel long distances to and from #Chalewote18.
In 2016, over 30,000 people attended the #chalewote festival. This number increased in 2017 and if our mathematics is not that bad, we all know what to expect in 2018. Street art, colour, style, fashion, good food, good music, loads of fun loving people all mixed up in a perfect blend. What more can you ask for this week? #ChaleWote18 will be LIT. You just cannot miss it.
Credit : Bennet Otoo ( Jumia Travel )