Lauded with bountiful natural beauty and eye-opening landscapes of safari reserves, as well as, an amazing array of wildlife and endless beaches, Kenya is one of Africa's jewels.
With spectacular tourist attraction sites that either occur naturally or were built centuries ago, the East African country is the place to be if you are excited about experiencing Africa's rich heritage firsthand.
In fact, Kenya has simply been described as the best-kept travel secret in Africa and one of these under-the-radar destinations is the Lamu island.
Once an essential stop during any trip to Kenya, the small island is part of Lamu Archipelago, off the coast of Kenya. The peaceful tropical island where life is lived at its own relaxed rhythm has a captivating history, culture and landscape, and has been popular as a retreat for tourists, including writers and yoga lovers.
With a population of about 101,000 which is spread across 35 different islands, the magical Lamu island is home to rolling dunes and endless beaches, dhow boats and wandering donkeys, as well as, tiny villages nestled among coconut and mango plantations. The island's real attraction, however, is its old town of Lamu.
Founded in the 14th century, Lamu is the best-preserved Swahili settlement in East Africa and a UNESCO World Heritage Site. Over the centuries, the island has been inhabited by Asians, Persians, Indians, Portuguese explorers, Turkish traders and the Omani Arabs, as well as, Kenyans, hence, it has a unique charm of blended cultures.
"Crumbling old forts lie next to elegant rooftop cafés; narrow, cobbled streets wind past intricately carved front doors; Muslim schoolchildren laugh and play in the street between lessons," Rough Guides says about Lamu, which is mostly Muslim, unlike the mainly Christian mainland.
In fact, the town has unique architecture and Swahili homes built using coral stone and mangrove timber. Its intricately carved wooden doors are almost a tourist attraction on their own as each has its own history, as some were built during the years of Portuguese explorers or the Turkish traders.
With its narrow streets, Lamu town has no vehicles, and the donkey and the dhow remain the main form of transport. Around 3000 donkeys can be found on the island, and they are mostly cared for by The Donkey Sanctuary which was opened in 1987 for that purpose.
What many find more fascinating about Lamu, however, is its inhabitants, who are mostly described as easy-going. According to an article on Ozy, these inhabitants "exhibit a surprising nonchalance toward visitors, who might be shocked to find themselves walking down the waterfront undisturbed."
Travel agents say the best time to visit Lamu is July, August and September, as cooler temperatures typically occur during this period. With a wealth of beautiful and historic buildings, one can begin their exploration of Lamu with the Lamu Museum, which offers an introduction to the island's rich history and architecture.
Apart from its exquisite hotels and shops with Masai souvenirs, there is also the Lamu Fort, which is down the road from the museum. Built by the Sultan of Paté between 1810 and 1823, the fort was used as a prison during British colonial rule, but today it is a library, said Rough Guides.
From the afternoon, one could escape the busy streets of Lamu town and head straight to Shela, the most popular beach on the island, which is just 10-minute boat ride away. Shela has its own history – the beach is the site of a famous battle between the Lamu Islanders and Mombasa and Pate invaders.
Today, it is offering revellers one of the best experiences on Lamu island as they sail into the sunset while engaging in active watersports such as kitesurfing and waterskiing.
One might fish for their own lunch in Shela or enjoy some fantastic meals like zingy mango salads and garlicky al-dente spaghetti from some of the hidden rooftop restaurants and café.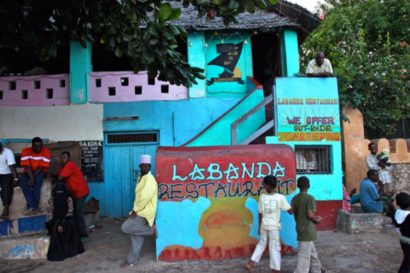 With an annual yoga festival as well as its famous donkey race, Lamu island highly depends on tourism, which, unfortunately, declined in recent years due to unrest on the Kenyan coast.
In 2017, however, British authorities lifted travel advisory on Lamu, and since then, tourists have been trooping to the island to enjoy the many activities that make it what has been described as a remote, secluded "sun and sand" lover's paradise.